Poutineville
The best reinvented poutine
Poutineville: Beyond the best poutine in Montreal and Quebec
Poutineville is recognized for offering the best poutine in Quebec and Montreal. Our establishments, popular with families, friends and colleagues, offer a relaxed atmosphere.
Our restaurants offer a unique culinary experience, with impeccable table service. For those who prefer to enjoy our specialties at home, Poutineville offers poutine delivery as well as take-out service.
To accompany the best poutine in Quebec and Montreal, our selection of alcoholic drinks is varied: from cocktails to microbrewery beers from Quebec and Montreal.
At Poutineville, we are committed to creating unforgettable experiences. Visit the nearest Poutineville branch and savor the quality that has built our reputation in the region.
Poutine, a traditional Quebec dish
Origin and history of poutine
Poutine, a symbol of Quebec gastronomy, was born in the Centre-du-Québec region in the late 1950s;
Places like Le Roy Jucep in Drummondville, Le Lutin qui rit in Warwick and La Petite Vache in Princeville claim to be the birthplace of poutine, a dish that has become a classic in Quebec;
This specialty, at the heart of Quebec's culinary identity, has evolved into the iconic poutine we cherish today;
The Unique Composition of Our Poutine
Poutine is a harmony of textures and flavors, composed of three key elements that come together to create this comforting dish;
At Poutineville, perfection begins with our fries; Hand-cut daily from fresh potatoes; They are golden brown, crispy on the surface and tender on the inside, forming the ideal base for our authentic poutines;
Cheese curds: Freshness for every day
At Poutineville, our cheese curds are delivered daily for the ultimate in quality and freshness; Famous for its "skouik-skouik" – this is a cheddar cheese with a firm texture and rich taste that blend perfectly; Never refrigerated or frozen, it retains its superior quality and authentic character for an unrivalled poutine;
Poutine sauce reinvented: Vegan and gluten-free
The finishing touch to our poutine at Poutineville is an exceptional sauce from exclusive recipes; Our traditional sauce is distinguished by its vegan and gluten-free recipe; Poutineville offers a range of unique sauces for every taste, enriching your experience with every bite;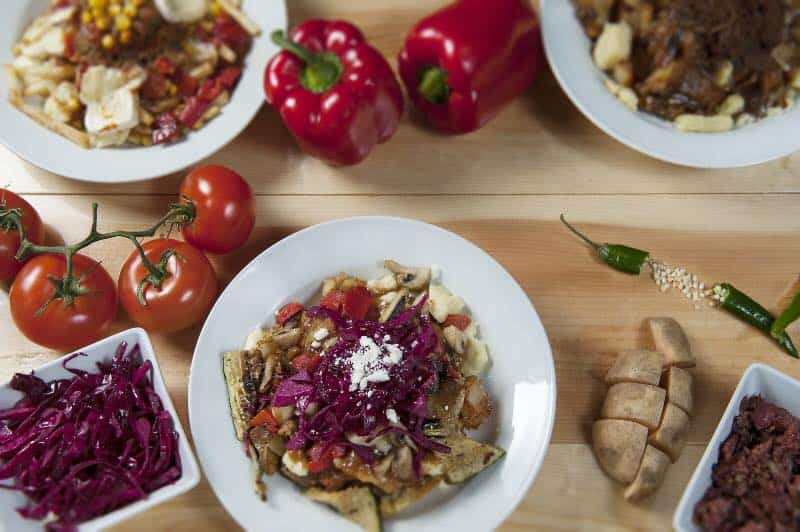 Fresh, local ingredients for the best poutine
At Poutineville, we firmly believe that the exceptional quality of our poutines begins with the careful selection of our ingredients; We pride ourselves on sourcing locally, guaranteeing the freshness and support of our local producers; Every ingredient, from potatoes to fresh daily cheese curds, is carefully selected to ensure unsurpassed quality;
Our fries, golden brown to perfection, are prepared daily from fresh, locally grown potatoes; The cheese curds, a key ingredient in our poutine, are delivered daily directly from the cheese factory, guaranteeing that unique texture and characteristic "skouik-skouik"; As for our sauces, they are concocted from exclusive recipes, combining tradition and innovation, to harmoniously complement the taste of our poutines;
Come discover the authentic taste of poutine at Poutineville, prepared with passion using the finest fresh local ingredients; That's our promise of quality in every bite;